Check out current job openings for the Americas Division of Foodservice Consultants Society International.
Members of FCSI The Americas can submit job openings by sending position details and contact information to [email protected]
Foodservice Design: Project Manager/Director - ColburnGuyette
Date posted: September 01, 2023

Colburn Guyette is a culinary design firm located in Rockland, MA specializing in food and beverage venues such as restaurants, bars, cafés, dining halls, food halls and a wide variety of other commercial foodservice facilities.
Qualifications:
Mandatory professional skills include excellent teamwork, organization, verbal and written communication, attention to detail, sound judgement, client care, and professionalism.
Ability to independently manage multiple projects concurrently is a must.
Revit skills are preferred.
Ability to travel for project meetings as needed is required.
Employment experience in foodservice design is preferred. Architectural, interior, or engineering design experience will be considered.
General Responsibilities:
Contribute to daily production tasks, such as drawings and documentation, equipment cutbook assembly, budget estimates, and specification writing.
Primary point of external communication with clients, design team members, contractors, and manufacturers/reps.
Responsible for internal communication with Principal and support staff throughout all phases of projects.
Responsible for management of project schedules and deadlines, production tasks, and internal/external coordination.
Accountable for maintaining project design intent, as well as quality and completeness of drawings, specifications, and other project deliverables.
Responsible for management of Construction Administration phase, including scheduling, RFI responses, review of shop drawings, field observations, and change order review.
Assist with mentorship and leadership of junior colleagues in all areas of professional and technical development.
Willingness to perform other duties as required.
Position Details:
Full time employee. May exceed 40 hours per week.
Health insurance and 401k available
Please send CV to

[email protected]
Associate Principal - Rippe Associates
Date posted: August 23, 2023
Do you know and love operations work in foodservice but dream of a new challenge? We have the perfect opportunity to apply your knowledge and experience! 
Rippe Associates is looking for an Associate Principal for our Hospitality Market Segment. 
Rippe Associates is a 25+ employee foodservice design consulting firm that works with architects, owners, and operators to design kitchens, serving areas, coffee shops and other foodservice spaces for a range of industries. We work in hospitality, healthcare, education, corrections, and business & industry markets across the country. 
In each market, our job is to understand the foodservice operation, develop design solutions that meet their operating goals and then document designs through drawings and written equipment specifications. We also coordinate with the construction team to ensure the final project matches the design intent. 
Most projects are managed by a team of Rippe specialists. Principals work directly with clients to understand goals and develop a design, Project Managers produce the design in Revit, Equipment Specialists select equipment that is used in the design. As a project progresses, more and more details are documented. 
The Associate Principal first learns our business by working with Principals on projects. The initial learning includes assisting with sales and marketing efforts, project fee proposals, contracts and billing review, and coordinating client meetings to present and discuss project documents; simultaneously, understanding equipment selection and specifications. The Associate Principal begins to manage and then lead projects independently and begins to lead sales and marketing activities for the entire segment, with development into leadership responsibilities within Rippe. Leadership includes management of up to 3 individuals within the market segment and participation in Steering Committee and Strategic Planning for company. 
The Hospitality Studio works on projects in Casinos, Hotels, Restaurants, Sports Facilities, and a variety of other markets. 
Other important qualifications are: 
Relationship & Business Development Experience

 

Knowledge about foodservice operations and equipment

 

Experience in communicating with owners, managers, chefs, and bartenders

 

Presentation skills both virtual and face to face

 

4-year degree in related field

 

10 years' experience in related fields (operations preferred)

 

Interest in design

 

Attention to detail

 

Excellent writing and speaking skills

 

Adaptability, critical thinking, problem solving, and resourcefulness

 

Proficient in MS products PowerPoint, Excel, and Word

 

Ability to learn new technology programs (ex. Bluebeam)

 

People Management Experience is a plus

 
Food Service Design Associate Principal Salary starting Range: $75,000 - $95,000, based on experience. 
Rippe is a hybrid environment currently at 20% in office and 80% remote work (plus Client Travel). The current hybrid includes commitment to be in the office every Monday for Staff & Segment Team Meetings. Onboarding will also require heavy in person training, shadowing & mentoring for the first 3-6+ months. 
What Rippe Offers to Employees: 
At Rippe, we not only design Kitchens That Work™; we build Careers for a Lifetime! We offer: 
T

raining & Career Development thru onboarding and career path programs, mentoring, and both internal training and external paid training.

 

Paid Time Off (PTO) to support wellbeing and to balance a fulfilling work and personal life.

 

Holidays Off – 7 paid holidays.

 

Financial Security through competitive compensation, profit sharing and retirement plans.

 

Planning for Your Future thru 401K program with employer match.

 

Health Care, Dental & Vision plan options to focus on peace of mind coverage.

 

Additional Benefit Offerings of Employer paid Basic Life, AD&D, and Long-Term Disability Benefits for you.

 

Optional Voluntary Benefits available thru payroll deduction for Whole & Term Life Insurance, Short-Term Disability, Individual Medical Bridge, Accident Insurance, Cancer Assist Insurance, and Critical Illness options.

 

The Stability of a Company who is at the top of the food service design industry; who is well respected in the industry for high quality standards and top ten in consulting firms with equipment specification; and whose focus of designing from the operator's perspective produces successful food service in a variety of market segments for 40 years.

 

Dog Friendly Workplace

 
When asked, 'What sets Rippe apart?' – Our teams replied: 
Longevity and experience of all employees and principals

 

Attention to Detail / Precise and Detailed Drawings

 

We are not just a company; we are a team.

 

We are passionate about learning and bringing all our industry knowledge to every project.

 

We care about our clients, our co-workers, and our community.

 

We design kitchens based on what we have learned from working in them.

 

And many more…

 
To find out more about Rippe Associates, the Project we design for, and our team, visit www.rippeassociates.com.
Follow us on: LinkedIn: https://www.linkedin.com/company/rippeassociates 
Inquiries and resumes should be forwarded to Katie Lint - [email protected]
Food Service Consultant – Envision Strategies
Date posted: March 21, 2023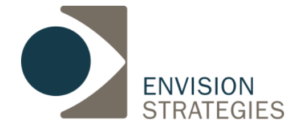 Envision Strategies, a food service management advisory services (MAS) firm, is experiencing steady growth and as such, has an opening for an entry-level Consultant position.  The firm consults across segments of the food service and hospitality industry, with an emphasis on higher education, workplace, and healthcare.  Services include market research, program assessment, master planning, facilities planning and supplier selection. In addition, we have recently launched Envision360, a tech-enabled performance management that is contributing to the firm's growth.
Envision Strategies was founded in 1995 in order to focus on hospitality business planning and is intentionally structured as a team of professionals working remotely and distributed across the country (with presence in Oregon, Colorado, Illinois, Michigan, Pennsylvania, New Jersey, Tennessee and Florida).
Responsibilities: 
Initially work as part of a team on data gathering, facilities assessments, competitive assessments, interviews and focus groups.  Assist with market research, benchmarking, space programming and report development.  This position will involve both office work and travel, working in the field with other consultants, with an opportunity to become more independent and eventually be responsible for managing projects. Involvement in the firm's marketing activities will also be encouraged, potentially including meetings with prospective clients, attendance at trade shows, presentations and proposal writing.
The successful candidate will work directly with senior leadership of the firm on a variety of consulting engagements. This is a remote working position with approximately 25% travel anticipated. Advancement to greater levels of responsibility and autonomy will be encouraged and supported through mentoring and training. Successful candidate shall perform other duties as assigned with the effort and skills necessary to contribute to our continued growth.
Qualifications:
This is an entry-level consulting position and so prior experience as a food service consultant is not required.
Minimum:  Bachelor's degree in business or hospitality preferred.
Restaurant, hospitality or food service management and industry experience.
Preferred:  Management-level experience with budgetary responsibility.
Must have:  Strong written and verbal communication skills with experience in presenting to both large and small groups.
Must have:  Strong organizational and problem-solving skills, demonstrated ability to manage multiple projects simultaneously, and grace under pressure.
Experience in a client/customer-facing role; preferably one that required a high level of engagement with people.
Ability to travel and be on site for up to 3 – 4 days at a time.
Able to work independently to meet deadlines with minimal supervision.
A detail orientation and penchant for accuracy is vital.
Competent working knowledge of Microsoft Office applications including Word, Excel, PowerPoint and Outlook.
While we are a 100% remote environment, collaborative teamwork is tightly woven into our culture; a demonstrated ability to thrive within a team structure is a must.
Must be a U.S. citizen or Permanent Resident.
Compensation and Benefits: 
This is a full time, salaried position with a flexible work week opportunity.  The salary will be commensurate with experience and qualifications, and includes an excellent benefits package, including:
Medical, prescription, dental and vision insurance
Matching deferrals to a 401K account
Additional profit-sharing contributions to your 401K account
Annual cash bonus
Flexible paid time off
Assistance in equipping a home office
If you're ready to take your career in a new direction, upload your letter of application and resume here (scroll to bottom of the page) and tell us why you would be a good fit for Envision Strategies!
Foodservice Design Project Manager - Cini-Little
San Francisco Bay Area, New York & Toronto
Date posted: March 15, 2023

Cini-Little – a leading design firm for commercial kitchen facilities – is seeking EXPERIENCED FOODSERVICE DESIGNERS to support our growing practice. Come work for Cini-Little and create commercial foodservice spaces that are great-looking, functional, and efficient! Work with design team members like architects, engineers, foodservice equipment manufacturers, kitchen equipment contractors, owners, developers and operators. Design foodservice spaces taking into consideration functional adjacencies, appearance, cost, serviceability, code compliance, client objectives, and other criteria. These are the fundamentals of commercial kitchen design.
The ideal candidate would already have a resume of foodservice facility design projects, know commercial kitchen equipment, and have foodservice operational experience.
Maybe you are tired of just doing the back end design because your firm's principals do all the front end work – come talk to us!
Maybe you want to have more client interaction and are tired of being a desk jockey – come talk to us.
Maybe you love foodservice design but don't want to learn every nuance of AutoCAD and Revit – come talk to us because we have a centralized CAD department to handle that.
Maybe you run your own shop but are tired of managing the administrative details – come talk to us because we have a support team for Marketing, Accounting and IT.
Requirements: Minimum 2 years prior commercial kitchen design experience is required. Bachelor's degree in Hotel/Restaurant/Institutional Management, Project Management, Interior Design or a related field. 2 years foodservice operations experience, preferably back of house. Knowledge of foodservice equipment! Besides the educational and operations experience, candidates must possess strong written and oral skills, be computer literate, and be able to travel. Must be eligible to work in the U.S.
Benefits Available:  Health, Vision, Dental, Life, Short/Long Term Disability, 401(k) and more
------
Inquiries and resumes can be submitted to Kathleen Held, CPSM
240-454-7773
------
Cini-Little International, Inc. specializes in operational and design consulting for commercial foodservice establishments. Clients from all over the world have been coming to Cini-Little for over 50 years to find creative solutions for Foodservice, Laundry and Solid Waste/Recycling projects. Whether it be management/operations issues, a remodeling or a new facility, Cini-Little has provided successful, operational and financial solutions to support clients in achieving their goals and objectives. We are an Equal Opportunity Employer.
Click to Follow and Subscribe
SIGN UP FOR THE FCSI MONTHLY NEWSLETTER
Each edition offers communications from Trustees of the Board and FCSI The Americas staff, as well as feature articles and educational opportunities.
the latest edition of DIRECT CONNECTION