BizEssentials Webinar Series
<< Back to Webinars & Videos

The BizEssentials Series was created to help our consultant members run their businesses better with various topics throughout the next year. FCSI The Americas Conference Planning Committee members and staff sorted through many topics and identified key issues we think consultant members will find beneficial, but we welcome all suggestions you may have for future webinars. Contact Daniel Milana with suggestions.
Each event in the BizEssentials series will take place on the second Wednesday of the month.
Interested in sponsoring a 2022 BizEssentials Webinar? Download the Sponsorship Guide for more information.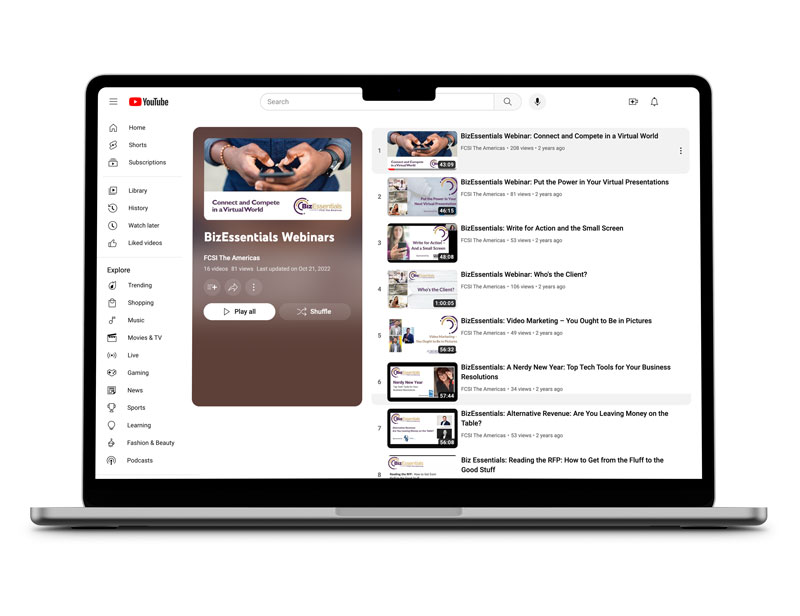 One Word That Could Put You Out of Business
Panelists Steve Carlson, FCSI, LEED AP, Mark Ahmann, CIC, Jeffrey W. Coleman, FACI
Join panelists Steve Carlson, FCSI, Jeffrey Coleman and Mark Ahmann as they discuss the word "defend" and the problems it can cause you when it appears in contracts.
Steve, Jeffrey, and Mark will share typical examples of indemnity language from AIA contracts, the legal and financial liability of agreeing to defend the architect and/or owner, professional liability insurance, and negotiating changes to indemnity clauses to remove problematic language.
Sponsored by:
Job Descriptions – A Communication Gamechanger
Presented by April Simpkins, SHRM-CP, PHR
During this month's BizEssentials webinar we welcome April Simpkins, SHRM-CP, PHR. April is the Chief Human Resources Officer for Totalhr, a human resources services firm focused on supporting the HR needs of small-to mid-sized businesses.
Job descriptions are generally the first communication tool used between employers and employees. Often introduced during the hiring process, this single communication tool outlines performance expectations, knowledge and skill requirements, and experience expectations.
A carefully crafted job description can be used as a training tool to ensure a new hire learns all aspects of a position. This single function can position someone for success and establish trust and accountability.
Attendees of this presentation will receive practical information that can be implemented immediately with your clients and your own staff.
This presentation will cover the following three objectives:
The elements of a carefully crafted position description and why it matters legally and practically.
How to use the job description as a training tool and establish performance expectations.
The steps an organization should take to ensure the position descriptions maintain accuracy.
Sponsored by:

LEED and the Foodservice Professional
Presented by Pam Eaton, FCSI, LEED AP BC+D
Join us for a review and discussion of LEED accreditation, certification and Foodservice Facility contributions. The webinar will begin with an overview of the many LEED AP accreditation options (plus WELL) and a discussion of the knowledge required and the test.
This will lead into a review of the various certification options for buildings and how foodservice facilities can contribute points within the different tracks. We will finish up by discussing how a LEED AP credential can support a FS Professional, and how, we, both as individuals and an association, can better educate the architectural community about how FS design can contribute to the sustainability of a facility even if there are not specific LEED points available.  A question and answer period will be planned for the end of the webinar.
Download Pam's presentation materials
Sponsored by:

Tax Advantages for Consulting Firms
Are you getting all of the tax credits you deserve? Join Jonathan Tucker, Principal for KBKG's Tax Credit Consulting to learn about the many credits you, your company, and possibly your clients should be taking advantage of this year.
Jonathan Tucker has over 17 years of experience providing federal business tax advisory services to clients in various industries including technology, manufacturing, food and beverage, agriculture, transportation, healthcare, retail and consumer products, hospitality, financial, and other professional services industries. Prior to KBKG, Jon spent 15 years in the Big Four accounting enviornment leading advisory and specialty tax groups. Jon provides support to clients with the implementation of specialized tax consulting projects such as the research and development tax credit. He is involved with consulting, technical review, training, project management and representation before the IRS. Jon received his Bachelor of Business Administration in Accounting as well as a Master's in Taxation from the University of Georgia.
What's Your Company's Endgame? Strategies for Maximizing Your Future Exit
Join certified public accountant Gene Marks for a fast paced, entertaining and informative discussion where you will better understand your best succession actions you should be taking that benefit yourself, your family and others connected to your business. During Gene's presentation you will learn:
How the 2017 tax reform will impact your business structuring and life insurance planning.
The latest estate planning developments from the recent year that affect business owners like yourself.
The key issues in transitioning a business to family members or key employees while providing for financial security.
The most important retirement and estate tax considerations you should be taking into account to ensure that your income will be maximized for the years to come.
The Perfect Storm: Industry Challenges in the "New Normal"
The foodservice industry has gone through a lot of challenges in the last couple of years. We have been quick to respond to these challenges, and many have thrived.
But, the challenges of the "new normal" are likely to continue to impact our industry for a while. One of these challenges is the increased cost to run an operation. Increases in labor, food, construction, equipment, and real estate (among others) seem to be in the news each day. In addition to these challenges, the cost to operate the off-premise side of the business is also increasing. The industry has typically seen these one or two at a time, but in the current environment they are showing up all at the same time.
Sounds like "The Perfect Storm." In this webinar, Juan Martinez, PhD, PE, FCSI, of Profitality Labor Guru, Inc., will dive into this reality, provide insights on what foodservice operators can do to weather this storm, and highlight the significant role foodservice consultants can play to support them.
Presenter: Juan Martinez, PhD, PE, FCSI, of Profitality Labor Guru, Inc.
Networking after COVID
We've been told for more than a year to wear a mask, stay six feet apart, and don't travel. Now vaccinations are on the rise and people are starting to feel good going out again. But just because some of us are more comfortable being together doesn't mean we all are. Some of our clients and colleagues may not be ready for a while.
The uncertainty about being face-to-face will be with us for a while still. So how do we network in this new post-COVID environment? How do we handle the awkward "should I offer to shake hands?" moment. We'll discuss how best to network in this new world.
Presenter: Sharyn Yorio, Next Phase Collaborative
Responding to an RFP: You Know What Needs Done Now Share It with the Client
The request for proposal (RFP) process can be confusing and time-consuming. The first part — reading the request — often requires you to read between the lines to get to the client's real concerns. The second part of the process requires you to interpret their needs in an easy-to-read response.
In this second session of the series, we'll discuss ways to respond to requests for proposals. This month we'll expand on what we learned in April and find the best way to highlight why your company is the best fit for the client.
This interactive session will give you a chance to gain confidence with your proposal writing skills. Bring your ideas and questions!
Kathleen Held, Chief Executive Officer and President at Cini-Little International, Inc.
Reading the RFP: How to Get from the Fluff to the Good Stuff
The request for proposal (RFP) process can be confusing and time-consuming. Some potential clients provide pages and pages of information that are difficult to slog through. Some of them provide one page of specific requirements, with no information about the project's big picture. How can we understand and respond to requests without losing our minds?
In this first session of a two-part series, we'll share tips for reading and understanding complex (and not-so-complex) requests for proposals. April's session will answer these questions: How do you decide if the proposal is even worth a response? What else do I need to know before you can answer?
This interactive session will give you a chance to learn new techniques and ask questions about the challenges you face. Bring your ideas and questions!
Kathleen Held, Chief Executive Officer and President at Cini-Little International, Inc.
FCSI Members can view this video on demand to earn 1 CEU credit.
Alternative Revenue: Are You Leaving Money on the Table?
Fees are fees are fees, right? Are you maximizing all of the services you offer to your clients? Design fees and management fees are great but there are other ways to increase revenue (legally and ethically) within your firm. James and Ken discuss their success stories.
James Camacho, FCSI, President of Camacho Associates
Ken Schwartz, FCSI, President & CEO of SSA, Inc.
FCSI Members can view this video on demand to earn 1 CEU credit.
A NERDY NEW YEAR: Top Tech Tools for Your Business Resolutions
Since her first Motorola RAZR flip phone, Beth has made a verb out of the word "nerd." She's here to help you filter through thousands of apps, gadgets, widgets and doodads to find the perfect free and bargain technology tools for work and home. Although the only real trophy she ever won was for making perfect French fries at McDonald's in high school, Beth Z has been featured on Best Speaker lists by several organizations that write best speaker lists. She has written a whole shelf of books on apps and has spoken to more than 100 thousand audience members just like you. And if you're puzzling over why she goes by "Beth Z"… it's because she only finds about three people a year who can pronounce her last name.
Beth Ziesenis: Author. Speaker. Nerd.
FCSI Members can view this video on demand to earn 1 CEU credit.
Sponsored by:
Write for Action — and a Small Screen
Video Marketing – You Ought to Be in Pictures
Video shorts and clips are the new norm when it comes to marketing. With so many text heavy emails, video can capture the attention immediately to promote your message. Come join us as we walk you through how easy it is to film and publish short videos using cameras and mobile devices to market yourself and your firm.
Erik Haviland, Matt Martinez, and Clint Boland
theFUZE https://thefuze.net/
Sponsored by:
Put the Power in Your Next Virtual Presentation
Learn to take advantage of rapid visual storytelling and micro moments, how to design for attention and wow your audience, and more effectively lead team meetings, webinars and more. Debra shared this Fast Fixes worksheet for download.
Debra Jasper, CEO & Founder, Mindset Digital 
FCSI Members can view this video on demand to earn 1 CEU credit.
Sponsored by:
Who's the Client?
Projects today have many players, so much so that it can become challenging to stay focused on the client. But is there just one client? A design consultant, an MAS consultant, an operator, and an architect will join together on a dynamic panel to address frequent obstacles and approaches to managing them to a successful outcome.
Karen Malody, Russ Benson, Todd Griffith, Teri Kidwell, David Kutsunai
Sponsored by:

Connect and Compete in a Virtual World
Learn how to make a great first impression online, fully leverage LinkedIn, and stay close to clients and colleagues in this new virtual world. Debra shared this handout to help you improve your profile.
Debra Jasper, Mindset Digital
Click to Follow and Subscribe
SIGN UP FOR THE FCSI MONTHLY NEWSLETTER
Each edition offers communications from Trustees of the Board and FCSI The Americas staff, as well as feature articles and educational opportunities.
the latest edition of DIRECT CONNECTION